October 2016 News
---
October 2016 News
---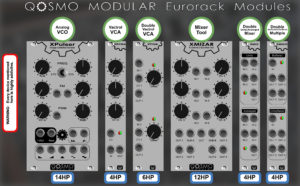 ---
The whole family of Qosmo Modular modules is made at the time by:
XPulser: Analog VCO with seven outputs, LFO/VCO mode, FM exp & lin, PWM and Reset;
XMix: Double mixer, unity and averaged;
XMulti: Double splitter, buffered and un buffered;
XMizar: Mixer tool, 6 channels, 2 subgroups, attenuverter & amplifier, offset, with expansion modules (TBA in 2017);
XDyna: Vactrol VCA with overdrive and clipping stage;
XTyna: Double vactrol VCA;
All modules are 100% handmade with high quality components.
All available now.
And for the near future (2017) more modules will be released:
XFluxe: Delay/Chorus effect module with Time, Feedback and Mix, all voltage controllable;
XArgh: Double AR generator with voltage controllable Log, Linear and Inverse log curve;
XTorsion: Overdrive/Distortion unit with voltage controllable tone and drive;
XTone: Low pass filter with 12/18/24 dB/Oct outputs and voltage controllable resonance;
XSpace: Complex Oscillator in a different way!
XMizar expansion modules (VCA and Meter);
…
Stay Tuned!
---
QOSMO TEAM