XPulser is now available.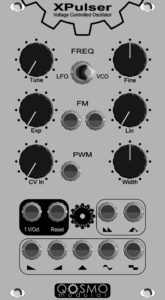 Qosmo Modular XPulser is a expanded voltage controlled oscillator with seven waveforms:
LFO/VCO mode switch;
1 V/O in;
FM exponential and linear with dedicated potentiometers;
PWM with cv in and dedicated potentiometer;
Reset in (Hard sync);
It has a sawtooth core, then the other waveforms are obtained via waveshapers.
The modules is 100% handmade with high quality THT components.
Retail price is Euro 270,00.
Qosmo Modular Team