---
QOSMO MODULAR XTORSION
---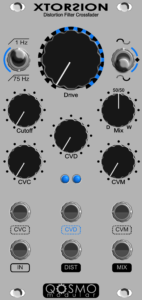 ---
Voltage Controlled Distortion Filter Crossfader.
---
XTorsion is a destruction unit: featuring a pre-cut high pass filter, a vactrol overdrive with high gain and a soft clipping stage with germanium diodes, it destroys the original signal. If this is not all, the signal can be hard clipped, positive or negative or none, then filtered with the voltage controlled 12 dB low pass section.
The DIST output is the result of this processing.
Beside the distortion section, a crossfader section acts as a blender between dry signal and wet signal, again with control voltage. The crossfader sections can react to audio rate signals for creating strange metallic sounds.
The MIX output is the crossfader section output.
CVD and CVD inputs accept 0/+5V signals, while CVM input accepts -5/+5 signals.
IMPORTANT: the drive stage is a very high gain stage, so it can amplify also small signals!
The unit is made with vintage components and a beatiful aluminium panel with silver finish. 100% Handmade.
---
Technicals:
33 mA @+12V
33 mA @-12V
0 mA @+5V
35 mm Depth
12 HP
Retail Price: Euro 260,00.
---