---
QOSMO MODULAR XENVELOPE
---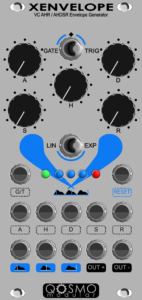 ---
Voltage Controlled AHR/AHDSR Envelope Generator.
---
XEnvelope is a digital envelope generator with three working modes: Gate, Trigger and LFO.
In gate mode the unit generates a AHDSR envelope, where the attack, decay, release can range from 1 ms to 8.4 s, hold can range from 1 ms to 1 s. In trigger and lfo modes the unit generates a AHR envelope. In lfo mode it restarts at the end of the release phase. A jumper on the backside permits the choice of +5V or +10V envelope outputs.
The unit features complete cv control over all the phases. (Inputs 0/+5V).
Positive and negative outputs are available. In addition three outputs are available for the End of Attack phase, End of Hold/Decay phase, End of Release phase triggers. (Triggers outputs +10V, 5 ms width).
A switch selects linear or exponential curve.
The module is built with high quality components. Beatiful aluminium panel with silver finish. 100% Handmade.
---
Technicals:
43 mA @+12V
33 mA @-12V
0 mA @+5V
35 mm Depth
12 HP
Retail Price: Euro 245,00.
---