---
QOSMO MODULAR XPULSER
---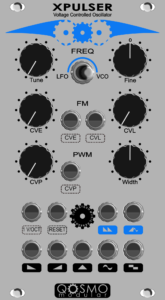 ---
Voltage Controlled Oscillator.
---
XPulser is a expanded voltage controlled oscillator with the following features:
5 basic waveforms + 2 derived waveforms;
LFO/VCO working mode;
1 V/O input;
FM Exp & Lin dedicated INs + POTs;
Hard Sync input;
PWM capabilities + CV input with dedicated POT;
The oscillator is based on ramp core generator. Various waveshaper sections are used to obtain the desired wave.
The Tune potentiometer adjusts frequency from 10 Hz to over 15 Khz in VCO mode while in LFO mode it adjusts frequency from 0.3 Hz to 320 Hz. Fine potentiometer lets you adjust the tuning within -6/+6 semitones. Tracking is over 8 octaves with excellent characteristics. Frequency stabilizer uses a special heater circuit, as seen in the Moog Prodigy and in many other synthesizers. Due to its analog nature it needs about 20 – 30 minutes to warm up.
Separate controls for exponential and linear FM inputs are present, with their own level potentiometer, for more modulation capabilities simultaneously.
Pulse width modulation ranges from about 10% to about 90%. CV input, with its own level potentiomer, to control pwm, is available.
A beatiful aluminum panel with silver finish and an interface easy to understand make XPulser a simple yet effective module to use.
All waves are about +-5V amplitude.
Beefy sound!
The module is built with high quality components. Beatiful aluminium panel with silver finish. 100% Handmade.
---
Technicals:
108 mA @+12V
47 mA @-12V
0 mA @+5V
35 mm Depth
14 HP
Retail Price: Euro 270,00.
---
Manual, Press & Pics:
---
Video:
---